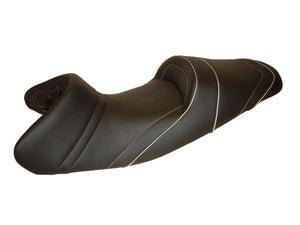 This seat is a "Lowered" type
Extra optional add-ons:
Gel Rider           64.90$

Gel Rear            64.90$

Heaters front   124.90$

Heaters rear    124.90$

Short/Long/Lowered/Raised       84.90$
*Message us after purchase for the extra additions*

"Top Sellerie" Deluxe Comfort Seat #3508 Lowered.
Turn your ride into the ultimate indulging experience.
Comfort saddle unique ergonomic design provides the ultimate comfort for both rider and passenger. Top Sellerie's special "backrest" design supports the rider's pelvis and prevents the passenger from slipping forward.
Top Sellerie's special density memory foam offers maximum support and comfort for every ride, short or long.
Entirely made in Top Sellerie's French design salon.
Optional features:
Comfort Gel insert pads for rider and passenger surface areas. Provides excellent soft feeling with shock absorbing qualities. Great for bumpy roads and long rides.

Seat heaters for rider and passenger. Transforms the Deluxe Comfort Seat to a heated saddle with Low/High heat level control. Rider and passenger has separate heater controllers. A must for every cold weather cyclist. 

Short seat- The backrest is moved about 3 cm forward. Long seat- The backrest is moved about 3 cm rear-wards.

Lowered- seat height lower by about 2.5 cm. Raised- seat height higher by about 2.5 cm.
We have been Top Sellerie distributors since 2006 and carry the full line. Please check our store for their matching Tank Covers.
*By purchasing this custom made seat you confirm it may take about 2-4 weeks to produce* 
FAQ
What kind of material do you use to make the seat covers?
The seat covers are made using top quality products that meet all the current legislative requirements with respect to fire safety standards, fracture and tear resistance in the field of saddlery manufacture.
Materials that come in several textures and colors are PVC coated fabrics (80 to 90 % PVC and 10 to 20 % for the base made primarily of cotton or cotton/polyester).
Do the seats come in natural leather?
No. Although leather is a noble material, it is hardly compatible with the requirements for a motorcycle seat such as weather resistance (rain, sun, etc.). A seat made of natural leather would soon be of great disappointment to its owner.
Just how waterproof are the seats?
All the materials are intrinsically waterproof. Any possible water seepage can therefore only occur around the stitching and embroidery.
Nevertheless, all the seats undergo a waterproofing treatment beneath the cover through the application of a waterproof film so that the foam of your seat will never turn into a sponge.
What are the stitching and inscriptions made of?
The threads used in the stitching and embroidery are made of anti-UV and anti-mold nylon.