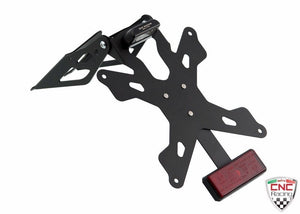 CNC Racing Italy- Adjustable license plate kit - PT127B
Application: 
Suzuki GSXR 750 06-10
Manufacturer: CNC Racing Italy
CNC Racing Italy offers the most exotic and prestige billet parts. These are top of the line in all terms of quality, design, and functionality.
-Repalces the oem part, no need for any modifications.
-Includes CNC Racing's LED light and reflector.
-Made from steel.
-Adjustable height & tilt.
-Homologated - road legal.
-Supprots turn signals.
-CNC Racing's plate kits general information:
Features:

- Connection-specific model of motorcycle including nuts and bolts for quick and easyassembly.
- Tilt adjustable thanks to a large-scale settings, you can change the angle of the plate.
- Height adjustable plate: the plate can bepositioned at various points along its axis until thedesired height is reached and measure.
We are authorized distributors online since 2006 and carry all available CNC-Racing options for your bike. We also ride and race our-selfs so we know bikes on road and on track.