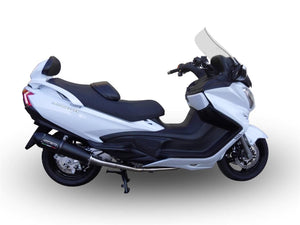 SU.CAT.3.FUNE
Full system Stainless Steel with Catalyzer included.
With lightweight Furore (Fire) silencer weighs only 1.8-2.2 Kg aproximate. EC Road legal.

Furore silencer made from Aluminum sleeve and special treated to a Black finish. 
With the unique Furore ergal end cap

.
Produced using hand made craftsmanship and advanced TIG welding. 

Length of silencer vary from 320 body for most sport bikes to 400mm body for enduro bikes.

All mounting hardware included for a perfect fitment.
Joints\ mid pipes included where applicable. No modification needed.
Manufacturer: GPR Italy
EC certified road legal with removable DB killer.

Designed and Dyno-tested in GPR's factory and hand made 

in Italy, using advanced TIG welding.

Allows better gas outflow from the engine and increase in horsepower and acceleration.

The GPR design proves successful in performance and sound.

The kit is light weight and will shed off significant pounds of the bike.

Includes Stainless Steel link pipe and hardware where needed.

Comes with GPR's 2 years warranty.
GPR has been making motorcycle exhaust in Milan-Italy for several decades with the spirit of MotoGP and SBK racing, using knowledge acquired thru racing research while sponsoring and supplying riders such as: Casey Stoner, Carlos Checa, Makoto Tamada, Alex Barros and more.
Designed and Dyno-tested in house at GPR's factory
We are authorized distributors for GPR Exhaust since 2007 So we carry all available options for your bike! We also ride and race our selfs so we know bikes on road and on track.
International orders ship with Express courier, insured and tracked on-line. While we try keep a large variety of items ready on hand, a 14-22 days are needed for production.