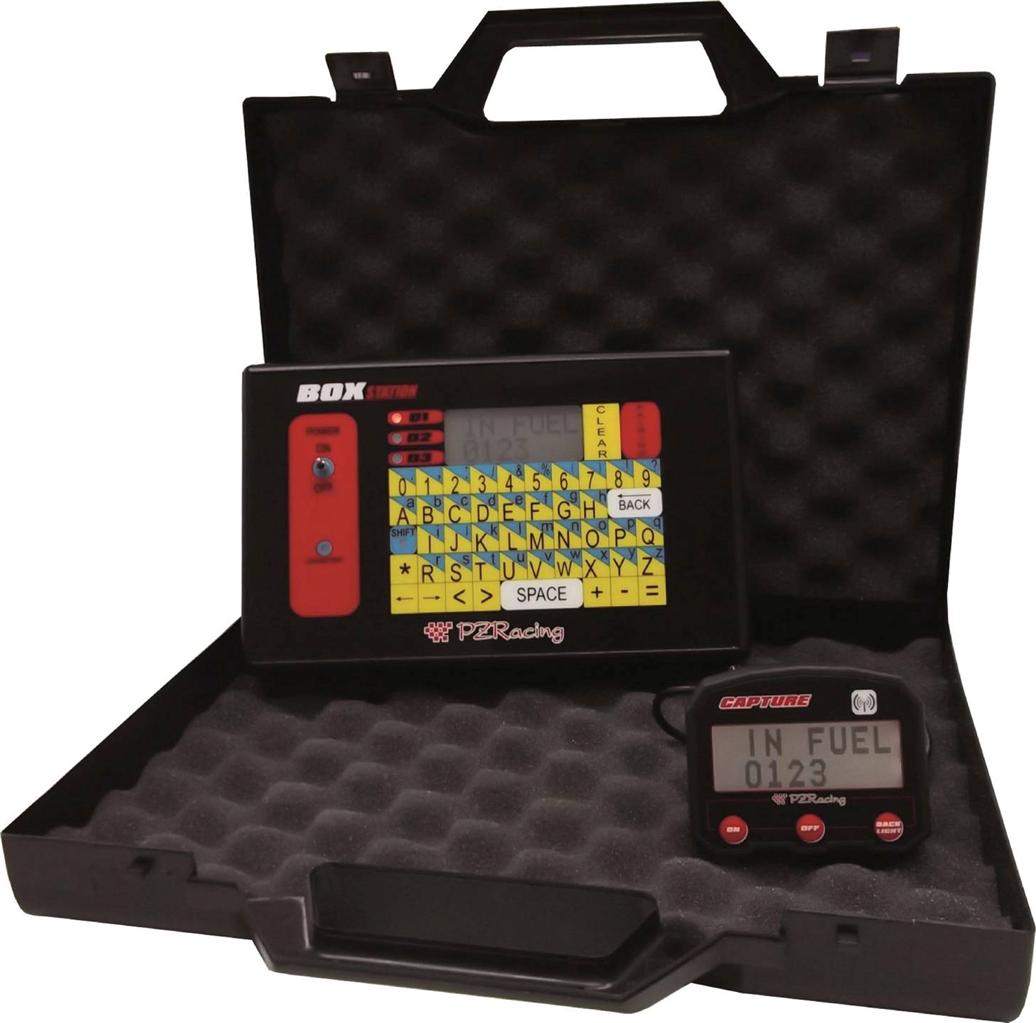 ITEM DESCRIPTION
BS100+CA100 BoxStation+Capture
PZ-Racing "
BoxStation-Capture
" communication system between pits & rider
This Formula 1 type of messaging system eliminates the use of old pit boards.
Description
BoxStation is the latest communications console between the pit and the rider.
You can finally say goodbye to inconvenient pit boards, thanks to BoxStation's user-friendly touch screen monitor and Capture module, which you attach to your bike.
BoxStation is equipped with a 60-symbol touch screen device which displays the message you want to send, and the Capture module which, when installed on the motorbike, displays the message typed in the BoxStation when crossing the finish line.
Boxstation is capable of managing up to 3 different lines of communication meaning it is possible to communicate with 3 riders at the same time.
The internal batteries last up to 200 hours and smart access to the batteries allows you to change them without having to open the device.
BoxStation comes provided with a handy case which allows you to carry the device around without the risk of damaging it.
Main differences BoxStation/old pit boards:
SECURELY DISPLAYED MESSAGE
It often happens, due to overtaking on a straight line, and because of the presence of too many tables at the same time that riders are unable to see their message and lose communication. This is no longer the case with BoxStation, the rider can safely read the message anywhere on the track.
AUTOMATIC COMMUNICATION
With the old tables you were forced to carefully monitor the rider and to show the message at the right time. Now, none of this is necessary, simply type your message on the keyboard and Box Station will transmit it to the rider at the right time.

​
SIMULTANEOUS MANAGEMENT OF THREE RIDERS
To date, every rider must have his own table and a dedicated person in charge of preparing and showing the table to the rider, now with BoxStation you can manage up to 3 riders from a single position saving money and resources within the team.
COMPACT IN SIZE AND WEIGHT
The standard aluminum pit board is bulky and heavy while BoxStation, thanks to its ABS shell, is light and practical.
PRIVACY
The standard tables can be read from across the pit lane, making the message public, with BoxStation the message will remain private between the team and the rider.
STABILITY OF THE MESSAGE
The pilot can remain focused on his riding even when passing the finishing line, certain in the knowledge that he can read the communication anywhere on the track.
TECHNICAL FEATURES
It transmits up to 16 characters in a map containing 60 symbols

2.4 GHz work frequency (compatible with EN 300328, EN 301489 European & worlwide FCC)

Fully unaffected by interference from similar systems operating on the same frequency

Integrated antenna

It can manage up to 3 Capture modules at the same time

Automatic association of the Capture modules

State of the art touch screen panel, also useable with gloves

Capture modules with graphic display

Flat battery LED

Protective case

Size (BoxStation): 220x140x40mm

Size (Capture) 76x63x32mm

Weight (BoxStation): 410gr

Power (BoxStation): 3xAAA (batteries last up to 200 hours autonomously)

Power (Capture): 12V external
✔ In our store you will find all available parts to prepare your bike for race season.
✔ PZ Racing data acquisition, gear indicators, shift lights, pit crew communication.
✔ Contact us for special racing bundles and packages.
Instructions will be included. As with all motor parts professional installation is recommended.
Buy unlimited PZ-Racing parts and pay shipping only for one. All the rest will ship for FREE.
-----------------------------------------------------------------------
We are authorized distributors since 2007 and carry all available options for your bike. 
We may use generic images for visual presentation, items may differ from photos.
International orders ship with Express courier, insured and tracked on-line. While we try keep a large variety of items ready on hand, about 7-21 days may be needed for production.
If you think we can improve this description or have comments, please feel free contact us now.