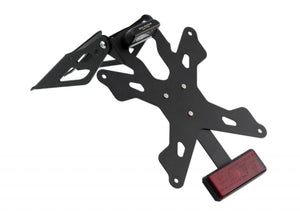 CNC Racing Italy- Adjustable license plate kit - PT139B
Plate holder adjustable steel including a support plate, license plate light LED, supports arrows reflector.
Features:
- Connection-specific model of motorcycle including nuts and bolts for quick and easy assembly.
- Tilt-adjustable thanks to large-scale settings, you can change the angle of the plate.
- Height adjustable plate: the plate can be positioned at various points along its axis until the desired height is reached and measure.
- Number plate light LED small approved.
The kit is for an Italian plate, specify the order if the plate corresponds to another country in the World, we can provide the license plate request.
The photo of the license plate is illustrative.
Application: 
MV AGUSTA
Brutale 3 Cylinders 675     2012 - 2013 - 2014 - 2015
Brutale 3 Cylinders 800      2012 - 2013 - 2014 - 2015
Brutale 3 Cylinders 800 RR    2015 - 2016
---
Manufacturer: CNC Racing Italy

CNC Racing Italy offers the most exotic and prestigious billet parts. These are top of the line in all terms of quality, design, and functionality.
-Replaces the OEM part, no need for any modifications.
-Includes CNC Racing's LED light and reflector.
-Made from steel.
-Adjustable height & tilt.
-Homologated - road legal.
-Supports turn signals.
We are authorized distributors online since 2006 and carry all available CNC-Racing options for your bike. We also ride and race our-selfs so we know bikes on road and on track.