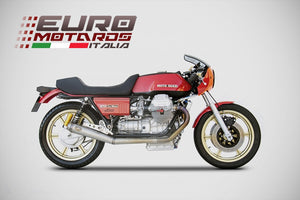 #EM.ZG095SKR
STEEL 2>2 RACING FULL KIT WITH REMOVABLE DB KILLER
HARD INCREASE, COMPARED TO THE ORIGINAL EXHAUST SYSTEM, IN TERMS OF TORQUE AND POWER AT ANY RANGE
ASTONISHING SOUND
AVAILABLE ON-DEMAND ONLY. DELIVERY 4 WORKING WEEKS FROM ORDER.
NOTICE: THIS FULL KIT IS COMPATIBLE WITH LE MANS I, II, III
FROM 1976 TO 1985
✔ Removable dB killer.
✔ Power increase +5 HP.
✔ Astonishing sound.
✔ Better gas outflow & horsepower gain.
✔ Significant weight saving.
✔ All mounting hardware included for a perfect fitment.
---
Zard Italia:
Dyno tested in-house for max gains.

Each piece is tested before being sent.

Hand-made in Italy.

Includes Zard Exhaust full warranty.
Zard Italia is one of the most prestigious exhaust makers of this era.
Each of their parts is considered an art made by a craftsman combined with state-of-the-art modern technologies like 3d lasers, design software, and Dyno areas.
Zard is the first market supplier for Bimota, Morini, Indian, Fantic Motor, and collaborates with the Ducati R&D department. 
---
We are authorized distributors since 2007 So we carry the most available options for your bike. 
We may use generic images for visual presentation, items may differ from photos.
International orders ship with express courier, insured, and tracked online. While we try to keep a large variety of items ready on hand, about 14-24 workdays are needed for production.
If you think we can improve this description or have comments, please feel free to contact us now.