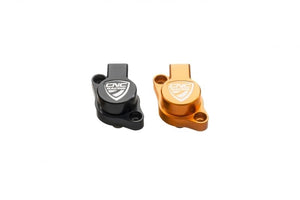 CNC Racing - Clutch Slave Cylinder
#EM.AF311B - ø 28.5mm
#EM.AF311O - ø 28.5mm
Color options: Black, Orange.
Machined from solid aluminum alloy with subsequent surface anodized, available in two colors: black and orange.
The product weight is 68 grams, lightness, and design accompanying a technology that lowers the operating force of the clutch lever by about 20-25%. The clutch actuator is original Ø27 mm while the CNC RACING KTM Clutch Actuator has Ø28.5 mm.
The assembly is very simple: just remove the original actuator, mount the actuator CNC RACING KTM Clutch and bleed. Very important is to use DOT oil as the original.
Color options:
KTM
Adventure 1050                             2016
Adventure 1090 R                         2017 - 2018 - 2019
Adventure 1090                            2017 - 2018 - 2019
Adventure 1190 R                        2016
Adventure 1190                            2016
Adventure 1290 R Super Adv     2017 - 2018 - 2019 - 2020
Adventure 1290 Super Adv         2016 - 2017 - 2018
Duke 1290 R SD                         2016
Notice: DOT4 / DOT5.1 oil model only.
Main features:
ø 28.5mm reduces the hand strain needed for operating the clutch by approx. 20-25%.

Lightweight, only 68 gr.

CNC machined from solid billet alloy.

Hard anodized surface.

Perfect fitment - replaces the OEM with no modifications.

Made in Italy, includes CNC Racing's factory warranty.
Please state your choice of color during checkout or message us, thanks.
CNC Racing parts are used by many racing teams such as Team Althea in WSBK who won the world title. CNC Racing now provides custom parts for the Desmosedici of the Pramac Racing MotoGP Team ridden by Yonny Hernandez and Danilo Petrucci.
---
We are authorized distributors online since 2006 and carry all available CNC Racing options for your bike.
We may use generic images for visual presentation, items may differ from photos.
While we try to keep a large variety of items ready on hands, 7-21 days may be needed for production.
International orders ship with Express courier, insured, and tracked online.
If you think we can improve this description or have comments, please feel free to contact us now.