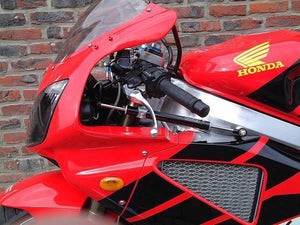 55.HO10.03
Toby Belgium steering damper & Mounting kit- Race use recommended. (for the road kits please see our store)
Manufacturer: Toby Dampers Belgium

Damper color: Please choose from Black or Blue. (specify during checkout or message us)
-This kit requires simple drilling of the frame for the mounting.
-Racing kit had a piston rod treated with Titanium/Carbon.
-Racing kit reduces the angle of steering.
-The kit is recommended for racing, track use, or very sportive road riding.
-Top of the line kit made by Toby Damper Belgium, all parts are made in house using advanced technology.
-It has 19 fully adjustable positions. 
-Includes Toby's full manufacturer warranty.
-Brand new in box.

Made in Belgium by Toby:
In 1990, Toby developed an all-new concept in motorcycle steering dampers and was the first on the market to design kits suitable for all motorcycles, to be used both on the road and track for competition.
Toby steering dampers have the same advanced technology used in the Standard models as is used in the Titanium race dampers. The racing Titanium is currently the lightest steering damper on the market. (available for select models-please message us to check)
Toby steering dampers are manufactured with an expansion reservoir, to house the oil which expands when the friction generates heat in use. The expanding oil moves into the reservoir with the heat and returns to the damper body as it cools automatically.
The bodies of the steering dampers are made from aeronautic grade aluminum (AL7075) and are worked to a tolerance of 5 microns. Polished after machining to a high gloss to reduce friction. The body is then anodized in an assortment of colors.
The steering dampers rods are made from CK45 steel and finished to close tolerance. The ball joints are manufactured in Japan for Toby, all self lubing without the need for grease nipples.
The fork clamp, damper mountings, and body straps are all machined from aeronautic billet aluminum and all pieces are machined before anodizing.
All parts of the steering damper kit are manufactured in Toby workshops on the CNC MORI SEIKI machining center to a high tolerance.