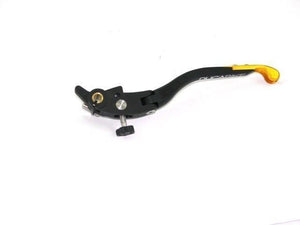 Ducabike adjustable folding brake & clutch levers- L03 Gold
Knob allows adjustment while riding.
Colored tips are replaceable and can be used without as a shorty style.
Includes hardware for complete installation.
Manufacturer: Ducabike Italy
Application: Ducati Monster 600-620-695-750-900-696-796, 748-916 94-98, Supersport 750-900, Hypermotard 796.
DUCABIKE is synonym of passion for motorbike and in a special way for Ducati bikes. 
We are authorized distributors online since 2006 and carry all available Ducabike options for your bike. We also ride and race ourselfs so we know bikes on road and on track.