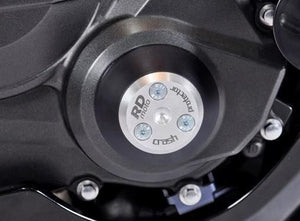 RD Moto Tuning- Engine Cover Slider / Protector- #H3PM1-X
Includes a Black slider and one cap.
Please include your cap color choice during checkout or message us:

 

Black 

 Blue 

 Gold 

 Green 

 Orange 

 Red 

 Silver

 
Photo of mounting kit is generic, kit includes specific hardware.
Manufacturer: RDMoto Tuning CZ-Europe
Available in seven colors.

Polyamide Nylon slider for optimum resistance.

Billet cap is hard anodized and can be easily replaced.

Protects the lower part of the engine on the right side.

Conical shaped Polyamide Slider.

Model specific fitments- Reduces damage in a crash.

Each protector has an inner steel insert for increased strength.

Developed on road and on track.

Each kit is quality pass tested before shipment.

Excellent protection at an affordable price.

Made in the Czech Republic and includes the RD-Moto factory warranty.

Buy 2 or more RD-Moto items and receive a shipment discount.

RD-Moto was established in 2001 and started producing crash protectors. Today RD-Moto produce a wide range of protectors and tuning accessories, and sponsor racing riders thru Europe.
We are authorized distributors on-line since 2006 and carry all available RD-Moto Tuning options for your bike. We also ride and race our-selfs so we know bikes on road and on track.